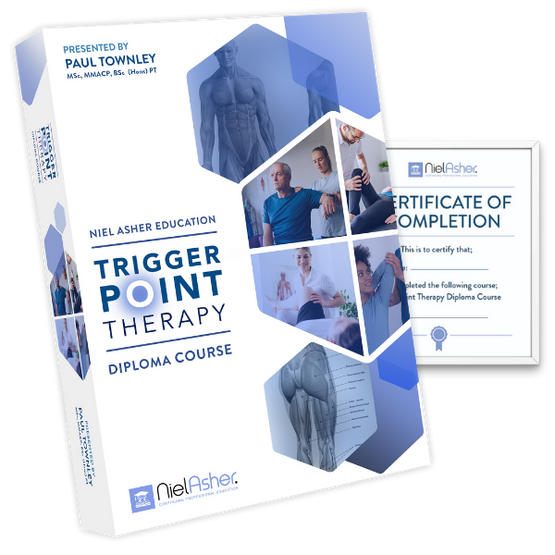 NAT Trigger Point Therapy Diploma Course (19 CEUs)
Course Description

The NAT Trigger Point Therapy Diploma course is offered for certified/qualified manual therapists who wish to expand their knowledge of trigger points and extend further within their scope of practice.
The course is built on latest evidence regarding the treatment of trigger points whilst encompassing the teachings of some of the worlds leading practitioners and is presented by Elsevier Education award winner Paul Townley MMACP PT who adds practical knowledge from his years working with elite athletes in the EPL.
The supporting course text includes over 250 fully illustrated pages covering the most important data pertaining to trigger points, muscle pain, fascia, and explains how these interconnect. In addition it provides the key information required to aid clinical reasoning and assessment by looking at the clinical relevance of TrPs in each muscle. It also includes detailed presentations of trigger point sites, pain maps, and recommended treatment techniques. 
The 50 new video tutorials (180 minutes of classes added in November 2020) provide the fundamentals of trigger point therapy, including: What are Trigger Points?; Research and Evidence; Referred Pain; Clinical Reasoning and Assessment; Perpetuating Factors; How to Find Trigger Points; Treatment Options and Techniques; Muscle Energy Techniques; Ischemic Compression Techniques; Neurodynamic Techniques.
About the Presenter:
Paul Townley holds a Masters Degree (MSc) in Neuromusculoskeletal medicine, and is a member of the Manipulative Association of Chartered Physiotherapists and the International Federation of Manipulative Therapy.
Paul is qualified as an ESP (Extended Scope Practitioner) and a university lecturer and teacher in the United Kingdom.
In a career spanning more than two decades Paul has worked with elite athletes (including Physiotherapist for Crystal Palace FC - EPL) and has provided specialist physiotherapy services and consultancy to the military.
What's Included?
 Course Texts

Healing Through Trigger Point Therapy

Certificate of Completion

-------------------------

Full colour illustrations

Easy "Quick Reference" format

Click here for Sample Pages

Video Classes

50+ Trigger Point Video Classes presented by Paul Townley

HD quality video accessed via our Virtual Classroom (password provided) with closed-captions subtitles in English.

Watch anytime online or download on any device (PC, Mac, Tablet, Phone)

Online Exams  and

 

Certification

Online Exam comprising multiple choice questions

NAT Certification - For more information click here

See table below for other CEU accreditations

Exam does not need to be completed in any one sitting. You may save your answers as you go along and return to continue at any time - internet connection required
Suitability
Manual Therapists, Massage Therapists, Trigger Point Therapists, Body Workers, Athletic Trainers, Chiropractors, Physical Therapists, PTS's, Occupational Therapists, OTA's, Medical Doctors, Nurses.
CEU Accreditations
NAT Credits
20

Massage Therapists & Bodyworkers (NCBTMB)

19 CEU

Canadian Massage Therapists (CMMOTA formerly RMTA) - Alberta

3.0 CECs

Massage Therapists (MMA - formerly AAMT)

10 CPE
Continuing Education Hours
19 CE Hours
Missouri State Board of Chiropractic Examiners
18.75 Hours
Alabama State Board of Occupational Therapy (OT/OTA)

  - CE Broker

 

("Patient Related")

     

              

19 CEs

Arizona Board of Occupational Therapy Examiners 

(OT/OTA) - CE Broker 

("Related to the Clinical Practice of Occupational Therapy")

19 CEs

Florida Board of Massage Therapy (LMT) - CE Broker 

("General")

19 CEs

Georgia Board of Massage Therapy (LMT)  - CE Broker 

("General")

19 CEs

Georgia Board of Nursing (LPN/RPN) - CE Broker 

("General")

19 CEs

Georgia State Board of Occupational Therapy (OT/OTA) - CE Broker 

("General Continuing Education")

19 CEs

Tennessee Board of Massage Licensure (LMT) - CE Broker 

("CE relevant to the practice of Massage Therapy")

19 CEs
Trigger Point Therapy Diploma Course - includes lifetime access to all online course assets (video classes, course text, exam, certification). All course assets may be accessed online via any device or downloaded.