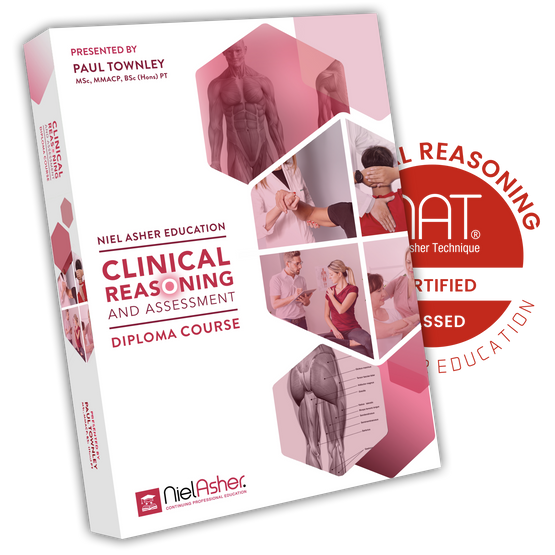 Clinical Reasoning and Assessment for Manual Therapists (8 CEUs)
Course Description

This (8-10 hour) self-paced online course is for therapists who wish to broaden their clinical reasoning and assessment skills and is presented by Paul Townley, one of the UK's leading teaching physiotherapists (Elsevier Education award winner). 
Divided into 8 modules with 21 video classes the course is supported by comprehensive and fully illustrated notes which cover: clinical reasoning theory; subjective assessment, objective assessment, special tests, mechanisms of pain, observation, communication, and treatment choices.
The course exam is completed online.
About the Course Presenter
Paul Townley holds a Masters Degree (MSc) in Neuromusculoskeletal medicine, and is a member of the Manipulative Association of Chartered Physiotherapists and the International Federation of Manipulative Therapy.
Paul is qualified as an ESP (Extended Scope Practitioner) and a university lecturer and teacher in the United Kingdom.
In a career spanning more than two decades Paul has worked with elite athletes (including Physiotherapist for Crystal Palace FC - EPL) and has provided specialist physiotherapy services and consultancy to the military.
What's Included?



Course Texts

Fully illustrated Assessment and Clinical Reasoning course notes


The Concise Book of Muscles

-----------------------

Full colour illustrations

Easy "Quick Reference" format




Video Classes

21 online video classes presented by Paul Townley.

HD quality video accessed via our Virtual Classroom (password provided) with closed-captions subtitles in English.

Watch anytime online or download on any device (PC, Mac, Tablet, Phone)




Online Exams and

 

Certification

Online Exam comprising multiple choice questions

NAT Certification - For more information click here

See table below for other CEU accreditations

Exam does not need to be completed in any one sitting. You may save your answers as you go along and return to continue at any time - internet connection required
Suitability
Manual Therapists, Massage Therapists, Physiotherapists, Chiropractors, Occupational Therapists, Trigger Point Therapists, Body Workers, Athletic Trainers, Exercise and Fitness Professionals. 
CEU Accreditations
| | |
| --- | --- |
| Massage Therapists & Bodyworkers (NCBTMB) | 8 CEUs |
| NAT Credits | 15 |
| Massage Therapists (MMA - formerly AAMT) | 10 |
| Missouri State Board of Chiropractic Examiners | 8.75 Hours |
| Alabama State Board of Occupational Therapy (OT/OTA)  - CE Broker ("Patient Related") | 8 CEs |
| Arizona Board of Occupational Therapy Examiners (OT/OTA) - CE Broker  ("Related to the Clinical Practice of Occupational Therapy") | 8 CEs |
| Florida Board of Massage Therapy (LMT) - CE Broker ("General") | 8 CEs |
| Georgia Board of Massage Therapy (LMT) - CE Broker  ("General") | 8 CEs |
| Georgia Board of Nursing (LPN/RPN) - CE Broker   ("General") | 8 CEs |
| Georgia State Board of Occupational Therapy (OT/OTA) - CE Broker ("General Continuing Education") | 8 CEs |
| Tennessee Board of Massage Licensure (LMT) - CE Broker ("CE relevant to the practice of Massage Therapy") | 8 CEs |
NAT Diploma Course - Clinical Reasoning and Assessment. Includes lifetime access to all online course assets (video classes, course text, exam, certification). All course assets may be accessed online via any device or downloaded.